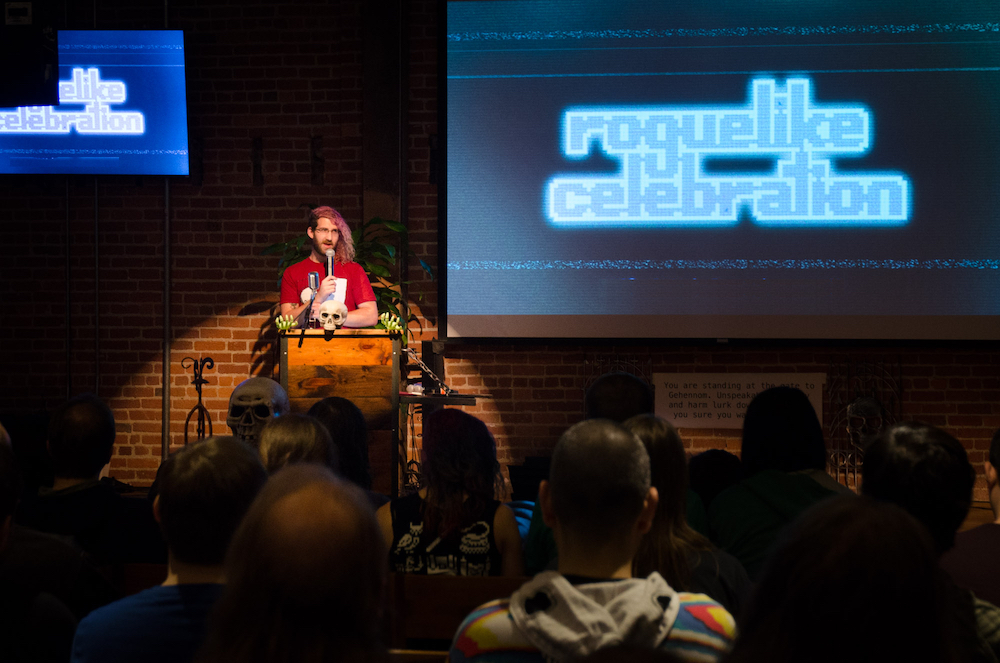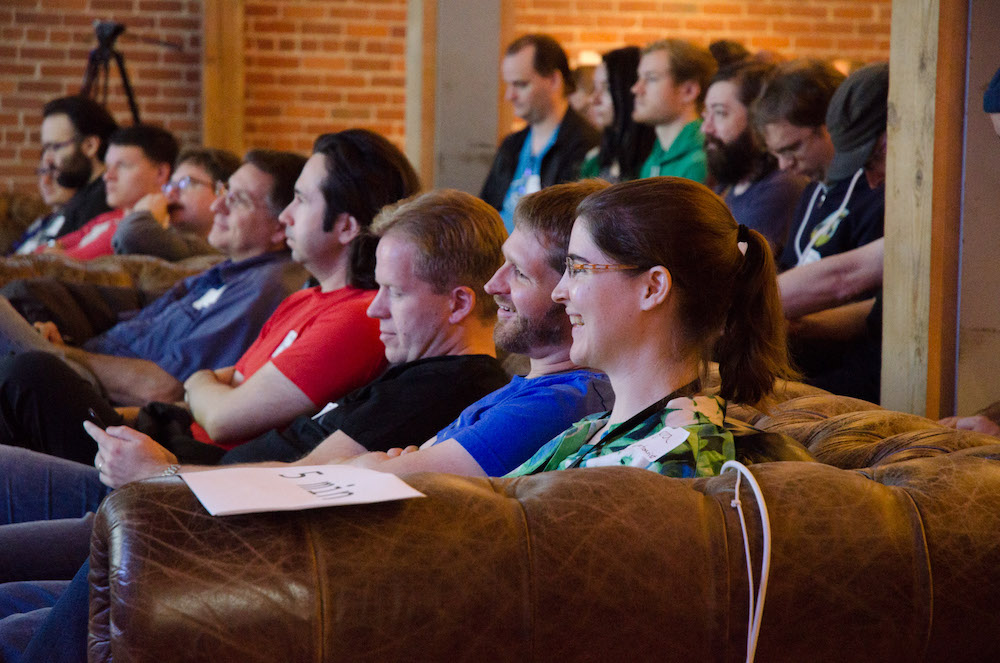 A celebration of roguelike games
The Roguelike Celebration is happening on Saturday and Sunday October 5th and 6th, 2019 at the GitHub office in San Francisco.
The Roguelike Celebration is a community-generated weekend of talks, games, and conversations about roguelikes and related topics, including procedural generation and game design. It's for fans, players, developers, scholars, and everyone else, including people new to this type of game!
If you or your company would like to sponsor this event, please send us a message at contact@roguelike.club (see sponsorship levels).
2019 Speakers
We are still finalizing the schedule, but this year's speakers will include:
Benjamin Berman -

Tips, Tricks and History for Card Game Roguelike Design

Leif Bloomquist -

Updates to Commodore 64 and Retro Multiplayer Roguelike Development

Brian Bucklew -

Dungeon Generation via Wave Function Collapse

Patrick Devine -

2D Sprites with Unicode and Golang

Spencer Egart -

Procedurally Generated Ritual Spell Systems

Todd Furmanski -

1 Button, 2 sprites, 4 directions, 8 Creatures, 16 Kilobytes: Experiences Making "Dragon's Descent," a Roguelike Action Game for the Atari 2600.

Adrian Herbez -

Procgen Petals: procedural flowers in WebGL

Max Hawkins -

Mapping Activity Space - Adventures in Randomized Living

Andrea Interguglielmi -

Designing a turn based roguelike inside a real time simulated environment, and the many headaches that come after.

Mark R Johnson -

Speech Generation in a Procedurally Generated World

Isaac Karth -

Why Do You Want to Generate That? A Vocabulary For Talking About Procedural Generation

Kawa -

Yet Another Conduct Conversation: a history of conducts in roguelikes

Scott Kovach -

Managing Game Logic With Rule Systems - Using Relational Programming to Build Games

Max Kreminski -

Generators that Read

JP LeBreton -

All Possible Glyphs: Playscii, an ASCII art, animation, and game creation tool

Stella Mazeika -

Is This Even Randomized?: Turning Classic Games Into Multiplayer Roguelike Experiences

Evan Ovadia -

ASCII vs Tiles vs Symbolic

Alexei Pepers -

A Guide to Proc Gen Practitioners

Everest Pipkin - Corpora as medium: on the work of curating a poetic textual dataset
Andrea Roberts -

That's the Way the Ball Bounces: Using Physics to Manifest Chance in Roundguard

Gabriel Santos -

ASCII Art Techniques & Animation

Aaron Santos -

Optimizing procgen parameters using mini-batch gradient descent

Jim Shepard -

Blooming on the Battlefield: Relationships, Rivals, and Romance in Gameplay

Robin Sloan -

Writing with the machine: GPT-2 and text generation



And more to come! GitHub is donating use of their office event space for Roguelike Celebration 2019, including sponsoring food and recording video and audio for the talks.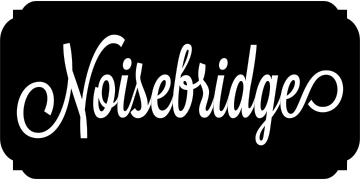 Noisebridge is a hackerspace for technical-creative projects, doocratically run by its members. It is a non-profit educational institution intended for public benefit. We're grateful they serve as our fiscal sponsor.
Is your organization interested in sponsoring Roguelike Celebration? Check out our sponsorship page!
Want to get updates?
Email
Sign up for occasional email updates about upcoming Roguelike Celebration events.
Twitter
Use the #roguelikecel hashtag on twitter!
Follow us on twitter: @Roguelike_Cel
Why?
Roguelike games have been part of gaming culture for over 30 years! They have a deep and special place in our hearts. There are so many fans across age groups and around the world that there should be a place for all of them to get together and celebrate these unique games.
We were inspired to do this by the International Roguelike Development Conference — and instead of a focus on development, this was for all of us — the players!


Our guidelines
Roguelike Celebration is a friendly and respectful celebration that welcomes players of all levels of experience (including no experience) and of all ages (people with kids welcome).
We have a code of conduct for all participants, since we're dedicated to a harassment-free conference experience for everyone. Our code of conduct.
We also recommend Recurse Center style social rules.